The NAF have asked me to paint up a team for the GT again. In previous years the sole restriction was to avoid the non-tier 1 teams (Flings, Gobbos, Vamps and Ogres).
However for 2018 this restriction has been dropped, I've added a poll to see how people would feel about including those teams in my list of options. Ideally I want to maximise the chances that the winner will get use out of them. Below I have listed the main ideas I am mulling over along with some pics of test models, there is a decent selection and plenty of time to add new ideas too.
One thing that will be an influence for me is if I can paint up representative stars to go with the team. I'm also wanting to complete all 56 stars (57 including Grotty) from the crp.
Amazon
Both Blood Bowl and GW's other ranges in general have a distinct lack of female models. This always makes it more of a challenge to find suitable components to make a team.
I have already made an amazon team before, using Mordheim amazons combined with Dark eldar bits. The main attraction for them would be to use the new plastic sisters of silence. Those are lovely models but a bit too well armoured for AV7 and I'd have to find a way to get rid of cloaks that have no place in Blood Bowl. I could even use them as an interchangeable human team if I added 2 more catchers and Bertha, they both share Zara and Helmut making them options too.
There are 2 stars that play for amazons I still need to complete, Bertha and Helmut. Bertha is rarely taken and few existing models exist for her leaving me lots of scope for conversions. In comparison Helmut is a popular star due to being cheap and a choice for 6 quite different teams. He has an existing 2nd edition model and quite a few good alternatives. You pretty much just need to stick a chainsaw on any model and it is clear who he is and I could do a female Helmut to fit in with the team.
Amazons are one of the strongest teams in tournaments and decent in low-mid TV leagues as well.
Chaos
I quite like the idea of more god themed chaos teams, obviously Nurgle already has his own team and I have already done a Slaanesh one for Mr Stick. Both Khorne and Tzeentch have a decent range of plastic models that can be used to represent some players in the team. There is also the chaos pact team and Cyanide's daemons of khorne leaving the possibility of making a combined 3 in 1 team with some imagination.
The Khorne Blood warriors or juggernaut riders are easy to convert into chaos warriors, just requiring the removal of their weapons and maybe some reposing. For beastmen either the normal models could be used and khorned up a bit or bloodletters if the idea was to mix in with the khorne daemons. The minotaur already fits in well with khorne being a frenzied killing machine, but I could use an old 3rd edition bloodthirster instead.
Tzeentch has recently had some lovely new plastics released, the Tzaangors and Ogriod would be ideal as beastmen and minotaur, but the chaos warriors are more of a challenge. The cultists are cool looking models but a bit underdressed for AV9. I could either use some of their bits and combine these with generic chaos warriors/thousand sons or add extra armour pieces to them from my BB bitz box.
A drawback is that the only Chaos star on my list is Brick and Grotty. I have them ready to paint but they are not really what I associate with Chaos so may not include them. I could do some Khorne or Tzeentch themed versions of more representative stars instead.
Chaos are one of the weaker teams in tournaments but are good in longer term leagues.
Dwarf
I have technically not done a proper dwarf team yet. I do have a very quickly put together team made from an old plastic warrior boxed set with cut down space marine pads. However this is nowhere near the quality of my other teams so I don't really count them. I also did a Norse Dwarf team that was designed to be used as either race, but they were quite lightly armoured.
Dwarfs were the first GW models I ever bought and have long been my preferred race in all game systems. I have over 300 WHFB normal dwarfs, a 150+ fully painted slayer army and 200 squats. For Blood Bowl I have a bunch of the 2nd edition models along with the new plastic team. So all in all I am spoiled for choice with what models to use.
I like the idea of doing a 2nd edition style team, though would want to make the blitzers and runners be clearly visible. I have both the 2nd edition versions of Barik and Flint who would fit in well with these models too.
I could use the plastic hammerers and iron breakers as the basis of a team. Finally the new Kharadron Overlords have a lot of cool new models that would either work as a team outright or could be combined with the aforementioned older plastic dwarfs.
Dwarfs have 4 stars outstanding on my list; Barik, Boomer, Grim and Flint and only Boomer plays for non-dwarf teams. Dwarfs are also a popular team to use in both tournament and leagues (if not face).
Goblin
With the joke teams being possible that does open up the possibility of doing goblins. They are one of the weakest teams but also one of the most fun so I could see even competitive coaches liking them.
The goblin team I had done previously, was circus goblins by *name* a fun and quirky team with very little in the way from conversions from me. The only unique parts I did was the stars and some score, turn and TD markers.
I have already bought the new plastic troll, I like the look of the model itself but and not a fan of the pose. A new goblin team is due out soon and if those look good then I will be tempted to buy them to use as the basis for a team. I'd look to combine them with bits from the fantasy and 40K range along with some repositioning.
Another option would be a forest goblin team as I already have some of the passengers from the arachnarok spider. I could even combine them with the new goblins to mix in bits of football kit they have scavenged from other teams.
I have completed all the goblin stars, some of them twice so that is one downside. The other is that someone has been in contact with me about doing a commissioned goblin team so I'd not want to do 2 of them.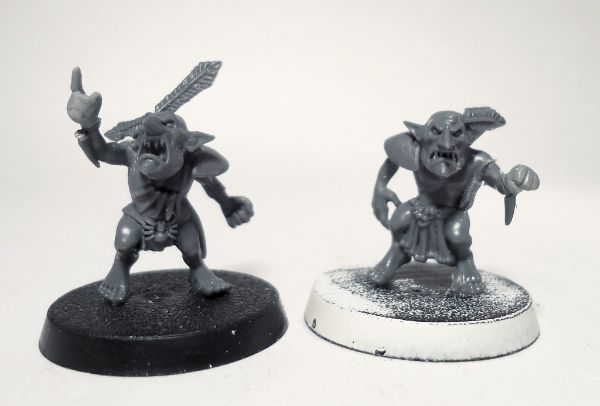 Human
They were one of the first teams I did, but they had almost no conversions at all, just using the 5th edition team.
This leaves me with plenty of scope to create my own unique human team, the difficult part is deciding which direction to go. I have a full team of 2nd edition models, most of a 5th edition (some models have been chopped up to for conversions) and the new plastics. If I can find some cool looking parts I could always combine them with bits from these teams.
I have bought the *name* as they have some useful parts that resemble Blood Bowl kit. I could combine these with the new plastics and/or 5th edition models but an unsure if that will be different and interesting enough.
One big advantage of doing humans is that they have 3 stars on my to do list, Helmut is well covered by other teams but Griff and Zug only play for them. I already have the 2nd edition Helmut, 5th edition Griff and Zug and also like the new versions of these 2 stars.
Humans are a good choice as a prize since they are an all-round team, competitive in tournaments and leagues and popular with beginners.
Norse
Despite having already completed 1 Norse team (and a half if I include the Norse Dwarfs) I do have a desire to work on them again. I'd even gone so far as acquiring most of bits and they were one of the options I was considering for the NAF GT 2017 team. I only abandoned them as I didn't think there would be time to do them justice and complete the 3 stars.
The team would be based on the plastic Bloodreavers as they have a suitably brutal appearance along with lack of armour common to norse. I'd remove any obvious khornate symbols and add in some space wolf heads and other blood bowl armour pieces. I'm also thinking of mixing them in with the Tzeentchi cultists too since have little armour either.
The main difficulty would be with distinguishing the positional players from the rest of the team. Ulfwereners are easy and I've got the new Wulfen models to use. I am thinking of using the character model and barbarian from warhammer quest as the berserkers and the *name* for a thrower. That just leaves the catchers and a potential 2nd thrower, though I don't know if many people take 1 much less 2. The snow troll would be made from a yheti, but with some conversions thrown in.
Norse are strong at low TV and still competitive right up until the highest TV, making them a good choice for tournaments and leagues.
Like humans they also have 3 stars I could use for them, Icepelt who only plays for Norse, Boomer who plays for just them and Dwarfs and Helmut. I have even got a colour scheme selected as I already painted up Wilhelm in it so could include him.
Ogres
I have been considering doing an ogre team for some time as they are one of the teams I have yet to complete. The fact that they are regarded as the worst team in the game by many may have something to do with that. I have some of the 2nd edition ogres, but with scale creep they look more like weedy ST4 players now and I've even seen their bodies be used for black orcs. I also have a couple of the 5th edition range, these were cool looking models, but I was never a fan of the pose their legs were in.
Instead I decided to combine the torsos from the dragon ogres with the legs from the 40k ogryns. These legs were a bit short for the bodies and I ended up extending them with wire and greenstuff.
Making the snotlings would be harder, there are half a dozen very cool Blood Bowl versions of which I have a few, but getting the rest would be expensive. Instead I might take the fantasy snotlings I have and convert them using arm swaps and adding a few pieces of Blood Bowl equipment to them.
Another big attraction of this team is that I have just finished converting Big Bertha along Brick & Grotty, they ideally fit that team as well.
Pro elf
I did paint up an elf team a while back, but that was using the 2nd edition range with only a couple of minor conversions. I have long wanted to do a team in that same kind of style but updated with plastic models. I like the image of the face masks and even the big hair that elves sported back in the 2nd edition days. The models still hold up for the most part but are a bit static and I like to add my own style to teams.
The 40k range has some excellent and really dynamic models in the shape of harlequins and dark eldar. There are also some good options for parts from the fantasy range. The biggest difficulty I have found is that the 40K models all seem to have some kind of backpack, removing this without the model looking rubbish is difficult and time consuming.
Elfs are seen as being weaker than either wood or dark elves but I have seen them do well in tournaments and they could just as easily be used as high elves too.
Stars are also an issue as the only one on my list is Jordell and he is a wood elf.
Vampire
The only other outstanding team I still need to do is vampires. They tend not to be very popular but in the right hands can really cause all sorts of problems for the opposition. I had the idea of making a Lahmian themed team, based on the models from the coven throne with another 3 vampires from other sources. I'd even gone so far as to convert Isabella Von Carstein into Count Luthor.
The main difficulty was similar to my ogre team, how to make the fodder? In this case the thralls.
I had several thoughts, they could be; handsome suitors, bedraggled and half mad victims or women hoping to join their masters in eternal life. There's also Crazy Igor to think about. He is one of the least well defined stars, there is little in the way of models to represent him or images. I do know he is supposed to be a former Border Prince who became a chaos marauder and loves Vampires.
There is not much in the way of chaos marauder models unless you count the old 2nd edition range of chaos humans. The question is should I theme him to be a crazed marauder or an elite version of whatever I use for the thralls.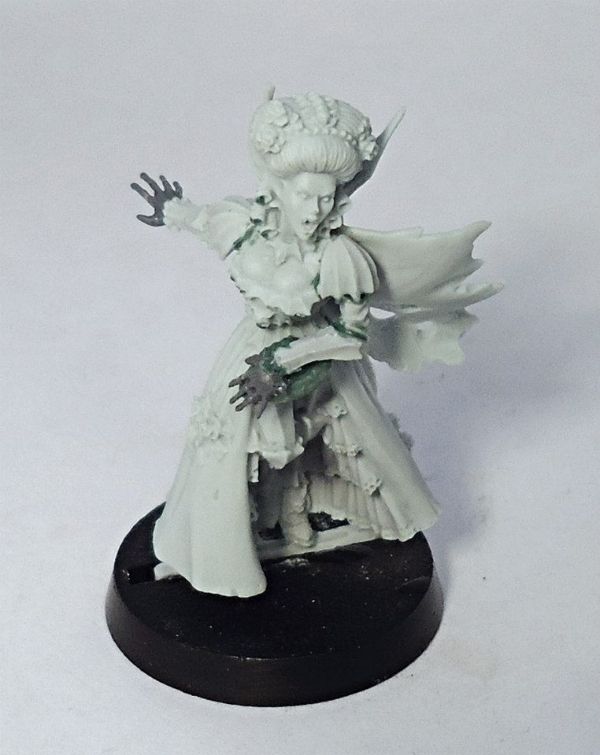 Wood elf
Woof elves are another team I have yet to do a "proper" version of, only the daemonette dryad conversion I did for myself a few years back. The 3rd edition team suffered from following the super bland wood elf army at that time. Later on the range and background was completely redesigned, instead of hippy tree-huggers they were now capricious, otherworldly fey.
I'd like to do a team more in keeping with this, something along the lines of celtic warriors with bare chests and tattoos. The difficult part is to find the parts needed that suit the more slender frame of elves.
The wild riders came with useful torsos for male or female players and the witch elves could work as well. To bring them over to Blood Bowl players I'd incorporate some 40k parts. I did make a dark elf runner in this kind of style, but would need to add more variety in appearance and pose to differentiate the positionals.
Wood elves are one of the strongest teams in both leagues and tournaments, they are disliked but not as hated as something like dwarfs. You may lose 5-0 when facing them but can usually inflict some pain back.
Their only star I still need to do is Jordell, but he is very representative of the team.