---
The NAF have once again asked me to paint up a team as a prize to be won at the GT. As before the sole restriction is to avoid the joke teams (flings, goblins, ogres, vampires and probably underworld). For personal pride I avoid repeating previous teams so that rules out; Slann, Lizardmen, High Elves and Khemri, I had also done a Norse Dwarf team in 2013 but as they were so unique I could easily come up with either a Dwarf or Norse team that would be totally different from them. Unfortunately I have much less time to work on this team in comparison to the slann. Not only am I starting much later, but the tournament is a couple of weeks earlier and I'll be moving cities in Feb next year which will disrupt things. This means I won't be able to do a conversion heavy project as ambitious as the Slann, Khemri or Norse Dwarfs.

With the release of the Blood Bowl boxed set and 3 new plastic teams and it seemed appropriate to make a team using one of these. The Orcs were a pretty good looking team and could easily be merged with the 40K or Fantasy range to make up the 4 missing players. However I had already completed 3 Orc teams and so didn't fancy working on another one.

I was less keen on the human models, feeling the linemen and blitzers were on the bland side, I did consider combining some of the human bits with the Bloodreaver models to make a Norse team. This would not be the most original idea and I don't really have the time to do the conversions required for my own planned unique take on this.



For the skaven, I have been considering creating a steam-punk team based on Clan Skyre, mixing in parts from 40K with the Adeptus Mechanicus range being particularly favoured. There were a couple of models I had an eye on such as Ikit Claw as a thrower, the Island of Blood Rat ogre with the bionic arm. I had already bought a few boxed sets and made a test gutter runner using parts from the *name* unit.



Sadly this team was a bit too ambitious in the time available and will have to become yet another of my shelved projects. I always have a few ideas for teams buzzing around my head and new models are often purchased in anticipation of starting one of these. My time is sadly limited and all too many of these ideas never get started or are abandoned part way though. They do prove to be useful though as several of these teams were brought back from the abandoned project shelf for the NAF GT. The Khemri, high elves and lizardmen did just that.

Instead of the steam-punk team I decided to go for something more generic, this would mean a lot less work converting and I could start painting them straight away. Of course I refused to have any identical models and would be changing some of the models to make them unique. The plan is to paint a team of 12 based on the boxed set and if I have time add a 7th lineman, 2 more gutters and a rat ogre. I have Glart, Hakflem and Fezglitch ready to bring the team up to 19 if time permits as well.

The first thing I started on was the linemen, using the 3 models from the new GW team with no changes. I was really pleased with how the Skitter conversion I made for the Waterbowl legacy team ended up and decided to re-use that colour scheme of orange, dark brown and white.



I did tweak things slighty for this team, using brown fur for them as opposed to black since I wished to keep that for the stormvermin. The orange ended up a little different as well, it was given a heavier brown wash than Skitter to dirty up the colours a little more. I had meant to add a red glaze as well, but by accident used a red wash which made the orange slightly darker. I also decided to add little battle damage to the armour, adopting a different technique from some previous teams by switching darker dents with extreme highlights in preference of showing chipped paint with metal showing through.


I will be swapping parts round and adding bits from the fantasy Clanrats and Stormvermin to modify the other linemen and make 6 unique players.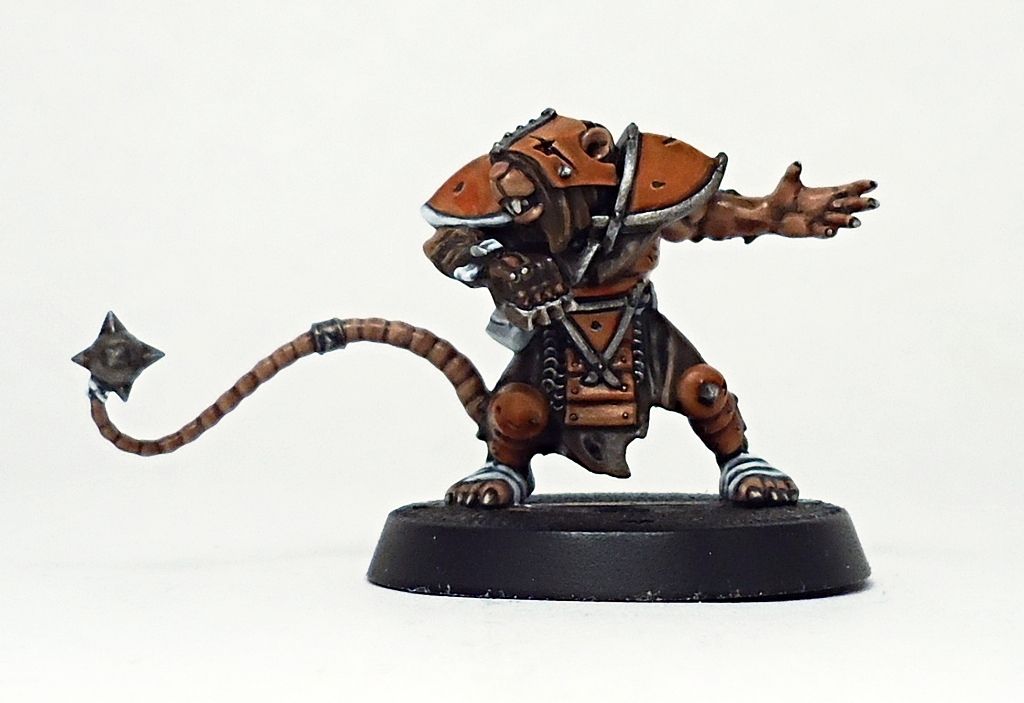 For the throwers and gutter runners I will be using one of each with no changes and converting the rest.



This uses the body from a Warhammer Quest Deathrunner with head and arm from stormvermin and hand from a thrower.