---
The Rat Ogre is finished now, meaning the normal team of 16 is pretty much done aside from their bases and numbering.

The Island of Blood rat ogre is commonly used as a blood bowl player, no wonder as he's a great looking model. I didn't want my version to just use the standard model, so did add a few extra parts; the face mask from a Storm Fiend, shoulder pad from an Ork Flash Git and knee pad from another blood bowl model. With the normal skaven getting enormous tails I had to use a suitably impressive one from the Dark Eldar Clawed Fiend to make his really stand out as prehensile. Having seen the forgeworld rat ogre I am glad I didn't wait as I really am not a fan of him.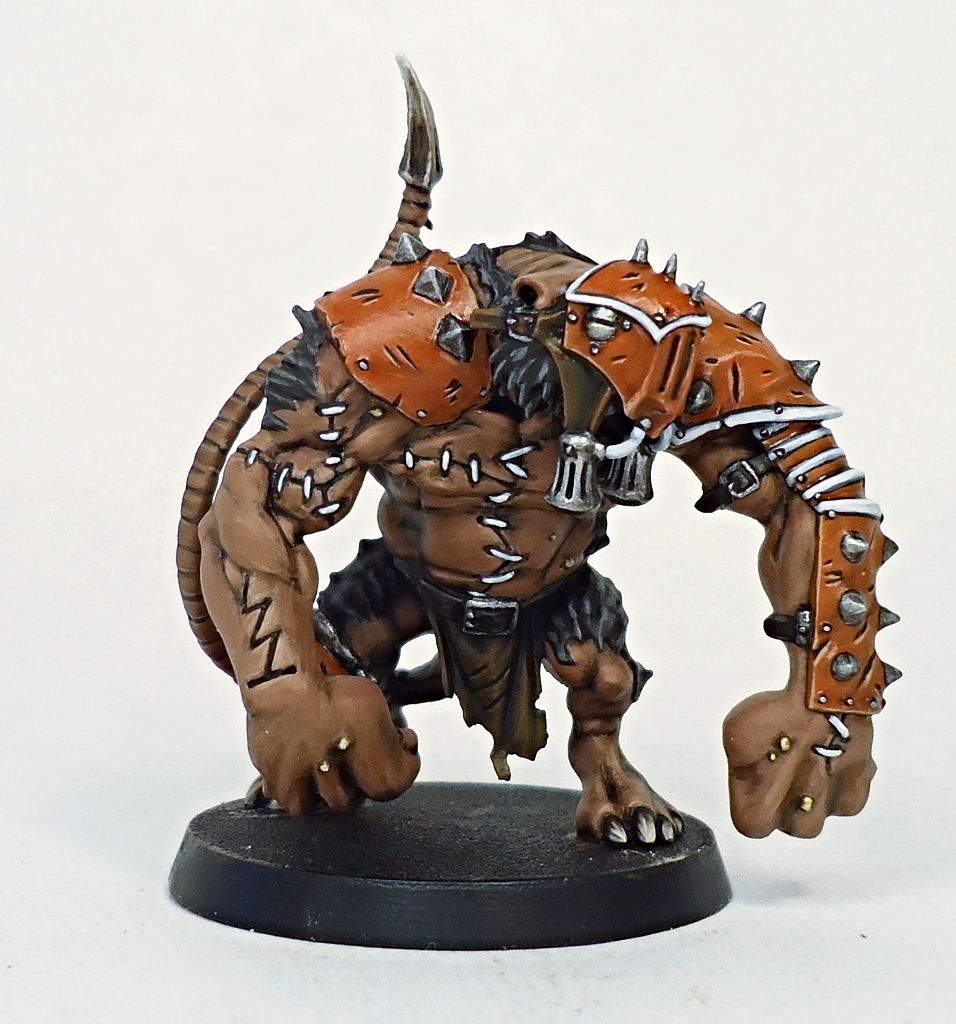 Painting was done in a similar way to the rest of the team. I started with a darker base coat for his skin as I wanted him to be a little more weathered and tough looking. I also went with a different fur colour, starting with dark brown and adding grey for highlights. The fur was sculpted strangely being large flat patches with the occasionally tuft. So I ended up painting on some more tufts of fur in place of this.

His armour took 2 attempts as the washes went wrong on the first and it ended up looking a bit too dirty, even for skaven.




It is just over a month until the tournament, which means I having to choose how best to prioritise the remaining time. I have started work on Fezglitch, meaning he will get done on time, but I would also like to make a display base.
I've already bought some of the bits but it is important that this matches the bases of the players, so I need to hurry up and decide the final look. I'm deciding between making it a sewer with underground flagstones, bare earth with small amounts of plants or astrogranite, possibly adding chunks of warpstone. Some of these will take a lot more work than others and that will be a factor.




I may have to drop Hakflem sadly. Looking at the 3rd edition model I had planned on using he does not fit in with the rest of the team and don't have time to convert my own. I suspect GW will release a new model for him at some stage and hopefully he'll look as good as the plastic skaven. I'd probably use the same colour scheme and possibly do the Headsplitter conversion I've been working on at the same time.

I could churn out the markers and footballs pretty quickly and may do those once the bases, numbering and display base have been completed.