I've been asked to paint up the first prize for the NAF GT 2015. Although that is still 10 months away I have at least 4 teams to I'd like to complete before then, so thought it's best to begin planning now. Once I have the idea and colour scheme fixed I can usually get through a team in a couple of months. I've added a poll to get some feedback on the ideas below, though please note I may well change my mind if I get better ideas between now and May 2015.
The one restriction is that the team should not be tier 2 or 3, that rules out; Ogres, Halfings, Goblins, Vampires and Underworld. I'd like to avoid repeating the prize from previous years so would not use
High Elves (2014)
,
Norse/Dwarfs (2013)
or
Khemri (2012)
in addition Nazgob did an excellent Undead team in 2011 so I'd rule them out as well.
Finally there are some teams I've either done twice already, am working on at the moment or just don't have any ideas for. These are Dark Elves, Nurgle, Orcs and Chaos Dwarfs and possibly Lizardmen, but more on them later.
That still leaves a good selection of teams.
Wood and Pro Elves – I do have some concepts for these but having done High elves last year I think a team with a different playstyle would be better. Maybe we shouldn't have pointy ears twice in a row.
Chaos – The previous team I'd done was
Slaanesh themed for Mr Stick
using a lot of classic model. That leaves plenty of scope for chaos undivided, khorne or tzeentch themed teams. I am rather partial to the juggernaut riders as the basis for khorne chaos warriors and could incorporate elements of bloodletters into the beastmen. I even have an old bloodthirster to use as the basis for a minotaur.
Slann –I've been half working on a team for while and even have most of the bits. However they would require a lot of modelling work and I'd be worried about not finishing them in time. Plus I'd quite like to do them for myself as something truly unique.
Amazon – The team I did for
Kalimar
was one of my favourites and would be hard to top. Whilst working on them I did come up with a female elf concept that I thought could be used as amazon, human or pro elf. If I made 4 blitzers, 2 throwers, 4 catchers, 8 linewomen and an Ogre/Bertha for the humans/zons I could do all 3 teams with only 19 models.
I'm not sure how popular multi-use teams would be, as long as the linewomen, throwers, blitzers and catchers are clearly distinct then there shouldn't be an issue on the pitch. But it risks compromising too much and using effort to make them all those 3 teams that could be spent making a team of one of those look top notch.
Human – This was one of my first commissions and used the
5th edition
models with no conversions aside from crests on the blitzers. I have another set of those great models and a full 2nd edition team so could easily do a simple paint job. Other possibilities are using the new tempestus scion plastics to make a team or combining the blood angel chestplates with marauder legs to make a greek style team.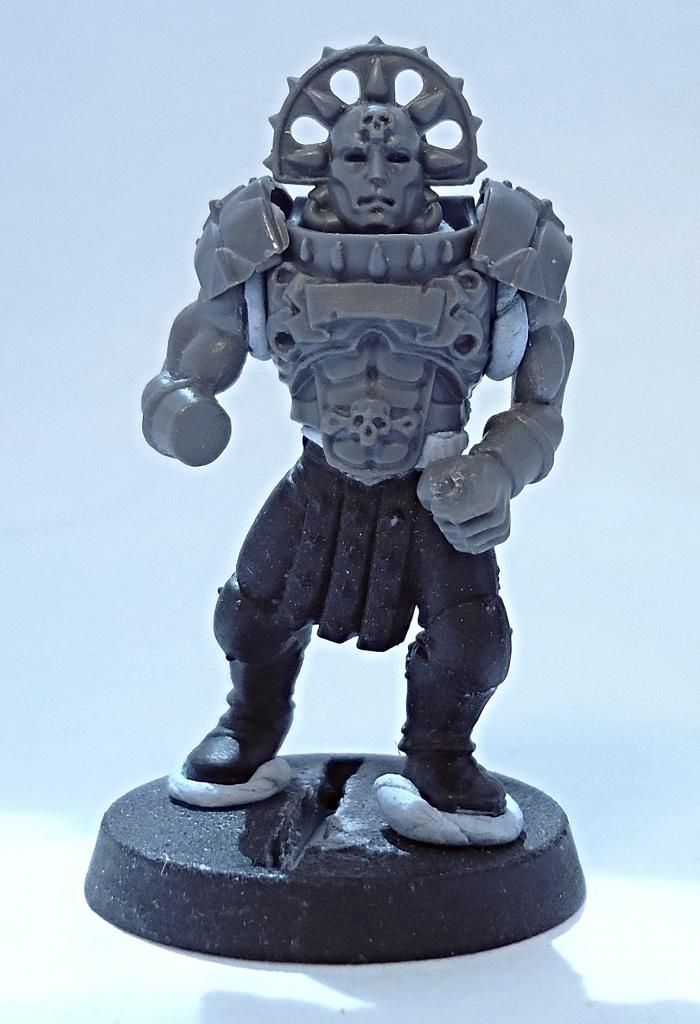 and
Chaos Pact- With all the variety in this team they do have lots of options, but the team I did for
Jimjimany
is one of my favourites. The Minotaur and Troll have some of my best painting, the marauders turned out really well and I had been planning that giant chaos warrior for years. The colour scheme was simple and effective too so I'd struggle to top them. In addition Pact aren't that popular in tournaments or leagues.
Necromantic – I'd already used up good ideas i had for ghouls, golems and wolves on
Phil 78's undead/necro team
. There are some nice 3rd party versions of these but nothing that really grabs me. They are a bit too similar to Undead as well.
Skaven – This was another early team I did for
Pigstar
and as they used the standard GW 3rd edition models, I have a lot of potential to do something different from them. I had been planning a team and bought the newest clanrats and stormvermin, I'd even gone as far as creating a test blitzer and thrower. I was struggling with how to do gutters but saw a great team here that used ghoul bodies for all positions, making them all twisted and corrupt. I'd not want this for the entire of the team but do like the hunched running pose on gutters. Skaven also have 5 mostly unique stars and I have models or ideas for all of these. As an added advantage Skaven are a popular tournament and league choice so the winner would be more likely to get use out of them.
I have done this last team twice already but do have ideas for them.
Lizardmen–I have been planning a 3rd lizardman team using some of the newer GW plastics. I was very happy with how the saurus and hemlock I did for
Purplegoo
turned out but thought I could do better with the skinks, slibli and Krox. I was never a fan of the normal GW plastic skinks, but the new terradon riders are in great poses and have come with armour that would suit Bloodbowl. I had also seen some cool conversions of the normal skinks by Don-vito using ghoul arms to get round the dreaded "weaponsnipitis". The carnasaur riders are ideal for a slibli and hemlock to really stand out and I already have them. For the krox i like the Gorebeast from the chaos chariot, it would need some repositioning and greenstuff work to lizard it up a bit, but I like that it is armoured and in a gorilla style pose. This team would likely have been the front runner but I've been contacted about doing a lizardman team for someone in time for the Eurobowl (Nov 2015). I'm not sure if I'll have scope to do that or if i should commit myself 18 months ahead, I need to give an answer by the end of July.
At the moment I'm favouring Chaos, Humans and Skaven as the front runners. Lizardmen would be added to that if I don't end up doing them for the Eurobowl.