I've been asked to paint up a team to be given as 1st prize at the NAF 2012 Championship so thought I'd chart the progress of them in a thread here. Most of the pics featured have already been blogged about on FUMBBL but I do have a new one of a Thro-ra.
I decided to go for a Khemri team for 3 reasons.
1. I've not done a Khemri team before.
2. GW released some amazing new plastic models for Tomb Kings and Necrons that I thought would be perfect to form the basis of a Bloodbowl team. It also means I can stick to the GW models only rule easily. Plus plastic models take the wear and tear of Bloodbowl play better than metal, as long as you don't stand on them, but they may need base weights to avoid being sent flying at a slight breeze.
3. If you are good enough to win the biggest individual tournament in the world then you might appreciate the challenge of using a weaker team at future events.
One thing I always try to do with my teams is to make them look like they are actual sports stars (albeit a super violent sport) but who also look like they reside in the fantasy Bloodbowl universe.
Tomb Guardians
One of the changes in crp was that Khemri mummies became Tomb Guardians and this opened up more interesting possibilities with these players, The image of mummies is pretty well defined, but I see Tomb Guardians as being magically automated statues that don't necessarily have to be made from bone.
The Necron Lychguard are perfect to use as the basis for the Guardian conversion since they have the size to look like ST5 and AV9. I will be combining them with the arms from the Sepulchral Stalkers and death masks from unit champions. The legs and back of the model have quite a few bits that look too mechanical so these will need to be filled with greenstuff or sculpted to resemble bone joints.
I'm still deciding which of the 4 models to use and exact poses so they are held together with blu tack at the moment, also the arms are a bit long so these need to be chopped down. But with 5 bodies then I could make one of the suitably elaborate to use as Ramtut. I have the GW model and his arms and head might fit nicely on one of those bodies with some serious chopping.
Blitz-ras
The Blitz-ras are the first models I have fully glued together. Another aspect of making a team that I am keen on is to ensure that the positionals are all easily identifiable from each other. So I have used the heads from the elite tomb guard models, the Necron torso comes with small shoulder pads but I removed these and replaced them with pads from the vampire count wights. I feel these look quite a lot like American Football style armour but still have a Khemri theme.
As the Blitz-ras are the most active players on the team I have modelled them in more dynamic poses and used arms that had armour on the forearms too. I am also considering giving them the studded shoulder pads instead to make them look a bit more heavily armoured.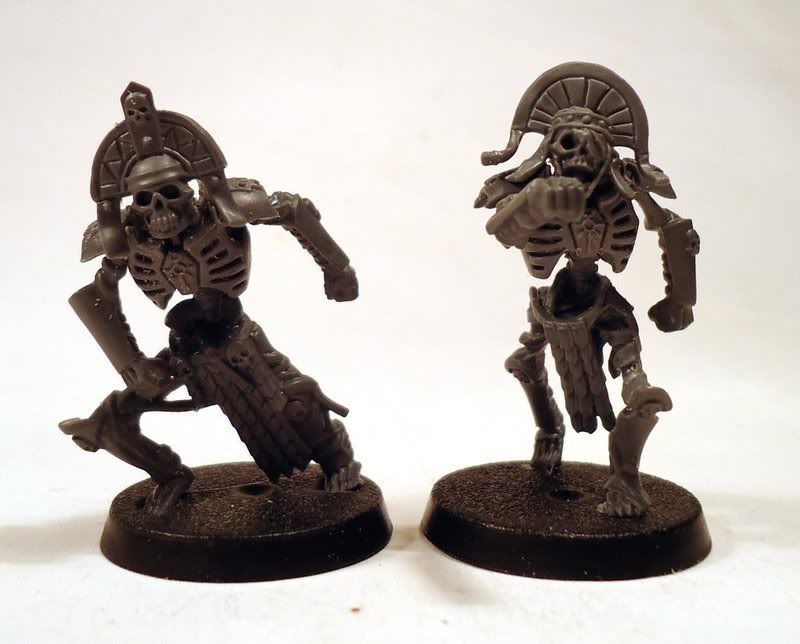 Linemen
Not only are these guys the fodder of any team but the Khemri ones are particularly poor so it's tough to make them look good on the pitch but sufficiently less impressive than the Blitz and Thro-ras that you can easily tell them apart. One way will be to have them in rather static poses, since they will probably be doing a lot of standing about getting hit anyway. Plus being centuries dead and animated by magic I don't see them doing a lot of jumping about.
The main decision is whether to give them the bigger shoulder pads or not, without them they obviously look both less impressive and less heavily armoured. But I do really like how the team looks as a whole with the pads, so I think the overall look of the team may win out.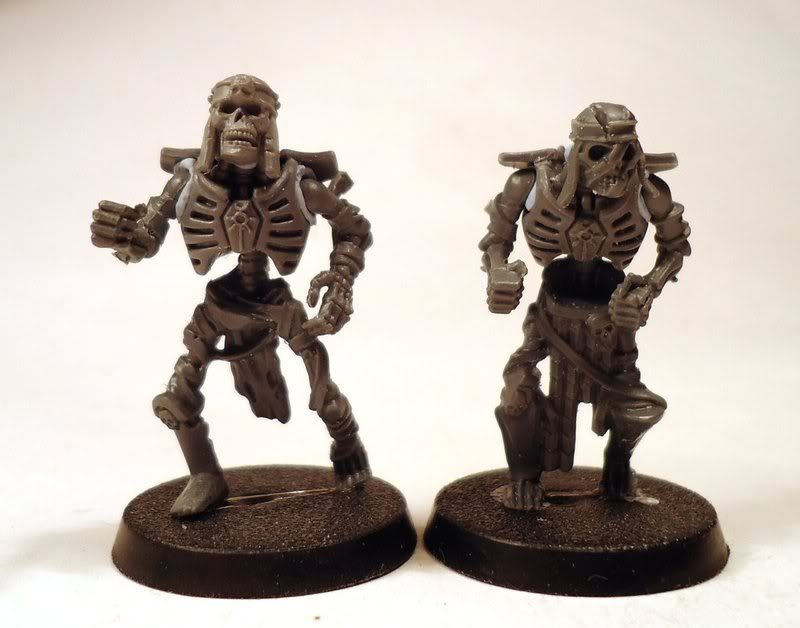 Thro-ra
I'm never sure which position is most suitable for a Bloodbowl team's captain but do think it is a 2 horse race between throwers/runners and blitzers. Throwers fit the quarterback role as the "brains" of the team whilst Blitzers are more action orientated, making important sacks or smashing a hole in the defence. I think liche priests best represent the role of quarterback type on the pitch, so got my hands on the plastic tomb prince from the necrosphinx. I only used his head and arms as the rest of his body doesn't really fit in with the rest of the team and yes it is yet another thrower in a finger pointing pose, though his index finger is extra long as I'm sure that will make his passes extra accurate.
I'm not sure what to do for the other thrower, I am considering using the princes collar, or maybe the mask from either the tomb guard or gold empire wizard, possibly putting him in a running pose?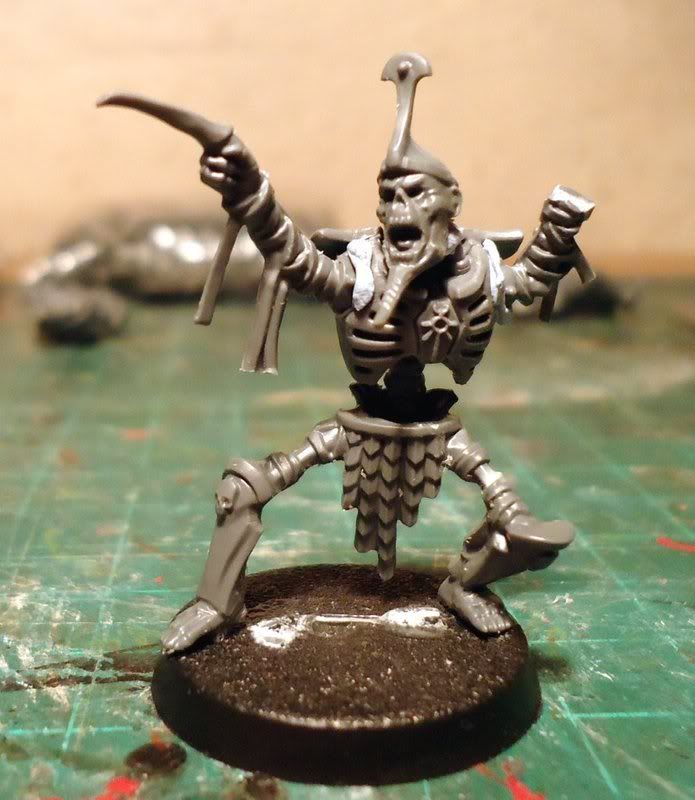 I am also going to be using this team at the Championship as I don't have time to paint up another team and am bored of my Wood Elves.
At the moment I'm thinking of taking:
4 Tomb Guard
2 Blitz-ras
2 Thro-ras
3 Skeletons
2 rerolls
And either a third re-roll or 4th skeleton and 3 FF.
Depending on opposition, for skills Guard, MB or Tackle on the Blitz-ras is tempting, possibly sure hands or even strip ball. Block or Leader for the Thro-ras and either guard on MB on the Guardians, the Linemen won't be getting anything..
Of course I've not used Khemri much under crp and I see them as a tier 2 team so if things start going horribly wrong and a 2/2/2 record looks unlikely then I may go all MB and try to get most cas.

I aim to do at least the team of 11/12 listed above, but I would like to do the full 16 and possibly a display base, but time may not allow for that.
Ideally were I to somehow get super efficient then I'd love to do some turn, score and re-roll markers, and possibly even coaching staff and the stars. Then again the thread about filling every possible model option shows how hard it is to do that without missing something, especially once you start using models for inducements.