Posting Images - 101
Once in a while this "how to post pics in TFF ?" question pops up.
Now, I not a web guru (not even close), but since it's a problem I feel it's quite easy to solve I'll try to help out and share a few tips based on personal experience.
I believe there's probably other ways to achieve the same result (possibly even in a easier fashion), so please feel free to chip in and help your fellow TFF'ers out!
STEP 1Find a web place were you can store your images (aka image host).
There are lots of places out there that allow you to store your images there for free.
A quick search on your favourite browser for "image hosting" or "photo hosting" will surely give you plenty of options.
(For the lazy ones, these are some of the options I've just found:
http://photobucket.com/
,
http://www.flickr.com/
,
http://www.twitpic.com/
,
http://www.imageshack.us/
,...)
Then again, you might even have one already (with your favourite pics or something), so go there and upload the images you want to post here in TFF!
STEP 2Copy the link of the image you want to post!
So you already have your pics fully uploaded in a image host?
Now you just need to go there, and copy the 'link' to the image you want to show (see example below).
In this example you just need to click in the white field right ahead of the "
IMG code
" that it auto-copy's it for you, but if it didn't you just had copy it your self (Right click on the mouse, over the
complete link
and then 'Copy').
(The example above is from a photobucket layout, but I suppose the others wont be much different.)
*Image quality and size note*
As you know, new and better photo cameras are always getting out in the market: from them we expect higher quality pictures, which usually means heavier images as well!
While that's a good thing for most purposes, may not be strictly so speaking in "forum" terms.
As you might easily understand, there's actually no need to have a 2/3MB image (with 2 or 3k pixels) posted.
That kind of weight would only make the image (or images!) slower and difficult to upload and view, possibly even making them impossible to see for some slower internet connections.
With that in mind, sometimes you might have the need to 'crop' your picture (removing excessive amounts of background comes to mind), or even lower it's resolution so it effectively looses some weight.
As a 'rule of thumb', I would aim at a maximum of 800 pixels per image (give or take).
But hey, after you post it, go back to the thread and check how it looks, and correct it's size if you find it's still 'rather big'...
STEP 3Paste (as in copy+paste) the link in your TFF post!
Now you just need to insert (paste) the link of your image into your TFF post!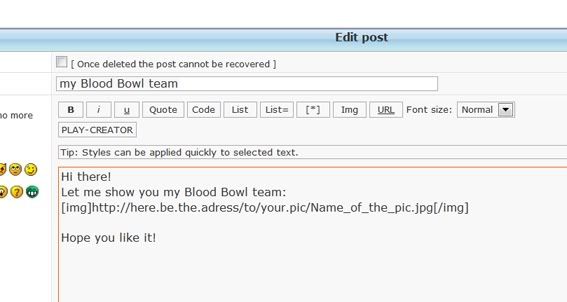 Above is an image of a post reply in TFF as example.
After you paste your link to the post it should look something like that, with this "img" "/img" codes before and after your copied (probably very weird) image address.
(Note that instead of "comas" on each side of the img code you'll have square brackets as seen in the pic above).
And that's about it.
Quite easy once you get the hang of it (but it's ok if you need a couple of tries before you get it right).
By the way, if you're not getting it to work (and before throwing your pc out the window) double check this:
- Make sure the address you have copied is correct, and that you have copied the whole extension of it.
- Check if your image address has the "img" and "/img" codes before and after the address (with square brakets!).
I suppose this is it.
Please feel free to add tips or correct any mistakes.
Cheers!
A.